History and Koepka stand in McIlroy's way
When Brooks Koepka was asked at a recent PGA Tour event in Korea about his "budding rivalry with Rory McIlroy" he replied in the following manner. "I've been out here, what, five years. Rory hasn't won a major since I've been on the PGA Tour. So I just don't view it as a rivalry. I'm not looking at anybody behind me. I'm No.1 in the world. I've got open road in front of me and I'm not looking in the rear view mirror, so I don't see it as a rivalry." McIlroy may not have appreciated the bluntness of Koepka's remarks but he did acknowledge that "what Brooks said wasn't wrong." What is concerning for McIlroy and his loyal fan base in this country is that the ease in which he wins regular professional events is no longer replicated in the major championships.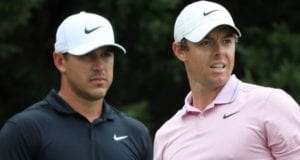 At the end of 2014 (after he had won his fourth major title) McIlroy was asked what a realistic target would be for him in the majors going forward. He replied that to be the most successful international player of all time was achievable. Gary Player holds this record with nine major championship wins. Player won his majors between 1959-1978 with the longest gap between victories only four years. The great Arnold Palmer won all his majors (seven) in a six year span between 1958-1964. The two best European players with regard to major championship wins are Nick Faldo with six and Seve Ballesteros with five. Faldo won his first five majors over a five year period between 1987-1992 and Ballesteros won his first four majors in a similar time span between 1979-1984. McIlroy won four majors between 2011-2014.
What all of these facts and figures illustrate is that no one in the history of the game has had a stellar career in the major championships with so long between multiple victories. Lots of successful players have added another major to their resume after their initial period of success. Ballesteros 1988 Open, Trevino 1984 PGA Championship, Nicklaus 1986 Masters and Els 2012 Open. If McIlroy is to go on and beat Player's record of nine majors he will have set a precedent that will be entirely unique. As much as we would all like to see Rory pull on a green jacket to complete the career grand slam next April the mental demons that seem to have beset his woes in recent majors cannot be ignored. All of us who read this title are capable of hitting it out of bounds off the first at Royal Portrush or nearly hitting it out of bounds off the first at Augusta National (2018 Masters last round). Contrast those two tee shots with his tee shot at the last at this years' Players Championship. It was simply perfect and nerveless, a high fade off the water to the middle of the fairway. If McIlroy is to rival Koepka at the top of the game he has to find a way to regain his "major mojo", only time will tell.