Sale!
MD Golf STR30 Ultimate Package Set
DELIVERY OPTIONS
Delivery is free to all mainland UK, Northern Ireland or Republic of Ireland addresses on orders over £50. If order value is under £50 carriage charge is £8.55.
OUTSIDE UK/IRE – see more details
RRP PRICE: £975! Our Package Price Just £499
Includes:
MD Golf Deluxe Cart Bag
MD Golf STR30 Driver
MD Golf STR30 #3 Fairway Wood
MD Golf STR30 Hybrid
MD Golf STR30 Iron Set 5-SW (Steel)
MD Golf STR30 Putter #2
MD Golf Deluxe Cart Bag  RRP:£169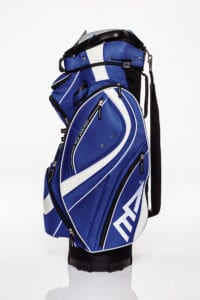 A premium design for more practical storage on the course!
This is THE cart bag for any level golfer, the MD Golf Deluxe Cart Bag provides maximum storage without compromising on looks! The cart bag comes with a 13 way divider top so that all clubs can be clearly separated as well as a separate putter pit giving the user a total of 14 ?places? for storing their clubs. The MD Deluxes features front-facing zippers on each pocket to provide easy access for the user while on the course. Additional Features on this MD Golf Deluxe Cart Bag include a cool pocket for drinks storage, a pen holder, a ball holder and a fleece-lined jewelry holder. Within the package this bag comes in black and white as standard, however, this can be changed at request!
MD Golf STR30 Driver RRP:£169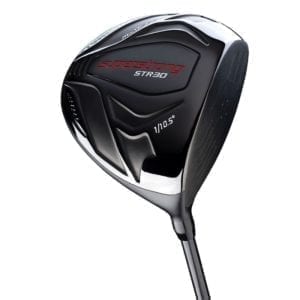 A classic driver head shape with improved aerodynamics for greater club head speed with added weight in the perimeter of the club to maximize stability and produce straighter tee shots. The STR30 driver is right-handed and comes in a 10.5 degree loft and has a 460cc head. The STR30 Driver comes in a striking black PVD finish club head with a Apollo Balistik graphite shaft and an MD Golf tour-inspired grip.
MD Golf STR30 Fairway Wood #3 RRP:£129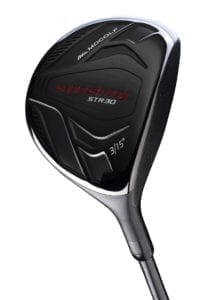 New for 2019 is the STR30 fairway wood. The fairway wood features a shallower club head design and wider footprint which reduces the centre of gravity promoting a higher ball flight and allowing the golfer to get the ball up in the air more easily. The club is fitted with the tour spec Apollo Ballistik graphite shaft.
MD Golf STR30 Hybrid RRP:£120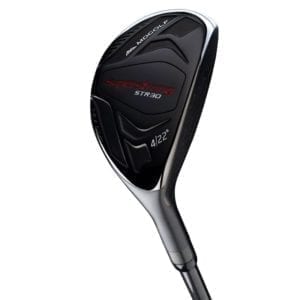 Replace your hard to hit long irons with our new STR30 hybrid wood. The club incorporates a 1.5 mm offset hosel which promotes straight hitting and eliminates a slice, a lower centre of gravity also helps increase ball flight resulting in increased distance and accuracy. The club is fitted with the tour spec Apollo Ballistik graphite shaft.
                                                       MD Golf STR30 Iron Set 5-SW (Steel) RRP: £299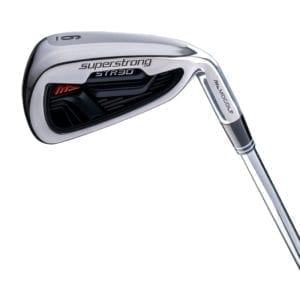 No golfer's set is complete without a set of irons, which is why our package set includes a 5-SW set which come with Ballistik Rifle steel shafts!
What does every golfer want? More consistency and forgiveness! Our new STR30 is our most forgiving and playable iron in 22 years of golf club manufacturing. The iron features on oversize cavity and maximum peripheral weighting to ensure hat off centre hits travel just as far as those hit out of the centre of the clubface.
The STR30 iron set is the latest incarnation of the award-winning Superstrong range from MD Golf. The Superstrong STR30 iron set is made from the finest stainless steel (club heads). The clubs are manufactured with an undercut cavity which enhances forgiveness. Suitable for all handicap levels, the STR30 irons not only look great but offer performance to match at amazing value.
                                                      MD Golf STR30 Putter #2 RRP £89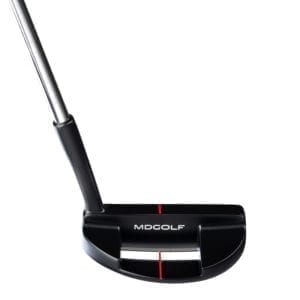 Face balanced and finished in soft steel our new STR30 putter range strikes the balance between classic styles and contemporary designs. Top spin face is designed to promote top spin and decrease skid. The STR30 Putter comes in right hand with a black PVD Matte finish head including striking white highlights, ball alignment lines can be seen on top of the head in a bold red for clear visibility. The MD STR30 Putters come with an Apollo steel shaft and a mid-soft super soft grip. 34" Length. Putter #2 is included in package set as pictured.