Sale!
MD Golf NV Drew Wedge
DELIVERY OPTIONS
Delivery is free to all mainland UK, Northern Ireland or Republic of Ireland addresses on orders over £50. If order value is under £50 carriage charge is £8.55.
OUTSIDE UK/IRE – see more details
NV Drew Players Wedge Collection – new for 2022 – NOW AVAILABLE!
After a hiatus of six years, the NV Drew Players Wedge Collection returns
CNC milled grooves and surface roughness on the face combine to offer golfers incredible levels of spin and control
Finished in Pearl Chrome, the 2022 Players Wedge is ideal for green side control, sand saves and short game wizardry
Available in right-hand in 52°, 56° and 60° loft options, the wedges have an RRP of £99 each – however MD Golf's 'Direct-to-the-golfer' business model means reduced costs – making each wedge available for just £60.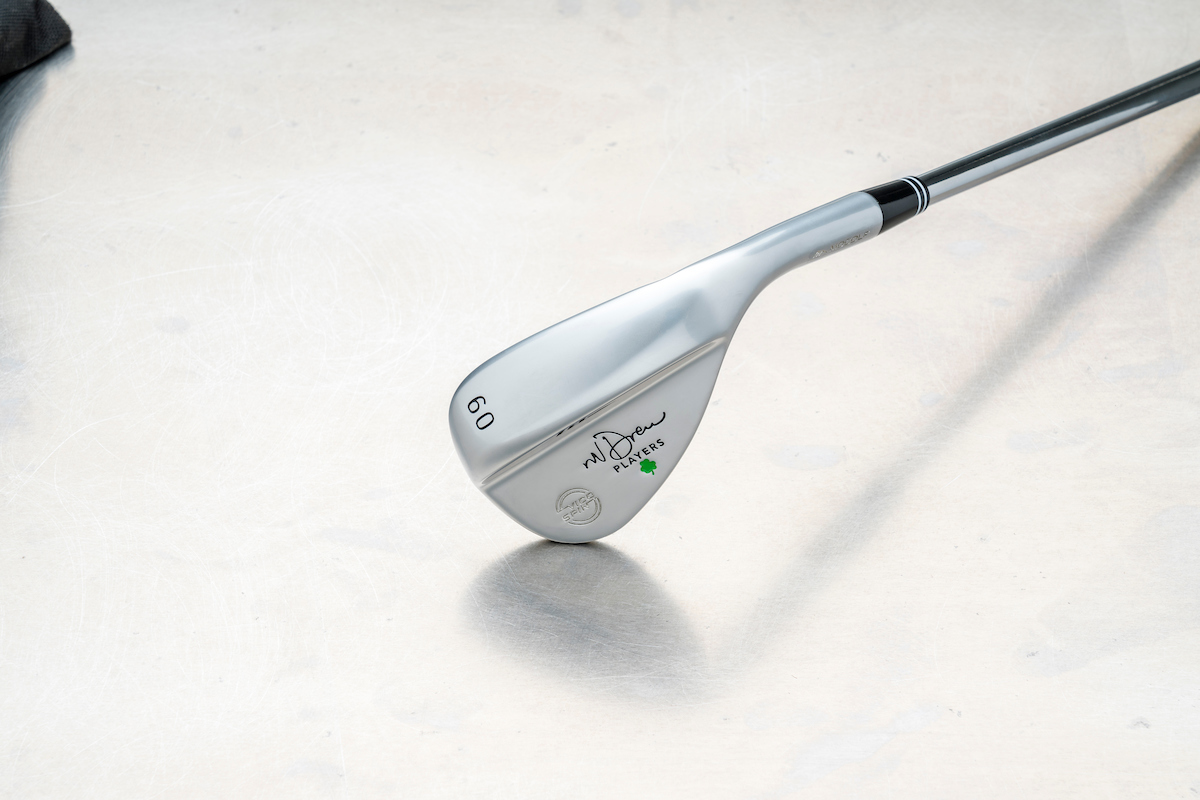 Product Background
After surpassing more than 250,000 sales of their original Players wedge between 2006 and 2015, MD Golf and Norman Drew – the first man to ever play in the Walker Cup, Ryder Cup and World Cup – have joined forces once again to offer golfers short-game accuracy and greenside control with a new version of the iconic wedge.
Re-imagined and re-designed, the new NV Drew Players Wedge is now available – unlike many other brands, MD Golf does not pay Tour players and sells clubs only 'direct to the golfer' meaning inflated prices owing to athlete contracts, agents fees or retailer costs simply are not factors in the pricing strategy.
The result? A truly stunning Players Wedge with an RRP of £99, now available for just £60. Bringing top quality wedges to market has always been a cornerstone of the MD Golf business during our 22 years in the golf industry. Initially, MD worked with Norman back in 2006 on the very first Players wedge. Sales success went hand-in-hand with awards from leading media brands, including Today's Golfer, Golf Monthly, Golf World and National Club Golfer.
The decision of the MD founders to move to an online only business was done so because they initially started out in the late 1990s to bring affordable, quality clubs and accessories to market – something they felt was increasingly difficult to do if they were to continue to use third party retailers. Nearly a quarter of a century later, this passion to provide sensational products at affordable prices burns brighter than ever, and with that they set up a call with Norman some 12 months ago regarding the return of the legendary Players wedge.
Members of the MD Golf innovation team were also present and spoke with the Northern Irishman via video conference from his Belfast home, eager to see if he'd be keen to resurrect the partnership in order to design a wedge that would potentially help hundreds of thousands of golfers, but at a price point that didn't prevent lots from doing so.
The new NV Drew Players Wedge is available in a 52°, 56° and 60°loft options, and during the extensive design process Norman was adamant that spin control was to be the central redeeming feature of the product, along with control and gorgeous feel, looks and versatility. The specially designed grooves have been CNC milled and a surface roughness between them combine to present golfers with the best wedge in the history of the brand.
INFORMATION: The wedges are available in an impressive Pearl Chrome Finish, right-hand only, and are priced at £60 each. The 52° and 60° wedges feature 8° of bounce, while the 56 comes with 11° bounce.